Utraque Unum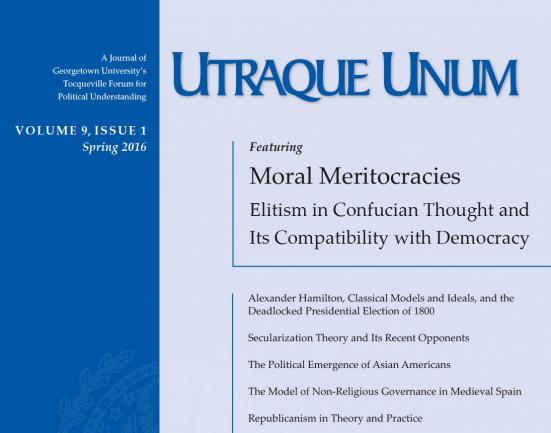 Utraque Unum is Georgetown University's only undergraduate research journal of the humanities. As a journal of the Tocqueville Forum, we strive to facilitate productive, meaningful, and judicious discourse, and believe that students represent an oft-overlooked source of thought and analysis. The purpose of the journal is not only to acquaint students with the tasks of serious writing and editing, but also to platform and celebrate the best of student scholarship.
If you wish to become a featured author for the next edition, please contact the Editor-in-Chief at utraqueunum@georgetown.edu for submission details. Your essay may be featured within our journal under the topic areas of political theory; philosophy and theology; history; arts and culture; and life and liberal learning at Georgetown University.  
We invite you to read past editions of Utraque Unum at DigitalGeorgetown here.
Please contact us at utraqueunum@georgetown.edu if you would like to receive the latest issue via mail.